Posts for: October, 2017
By Boca Dental Arts
October 23, 2017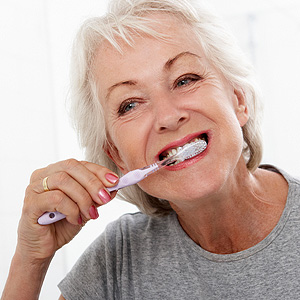 So, you've just acquired an attractive restoration with dental implants. You may be thinking at least with these teeth you won't have to worry about dental disease.
Think again. While the implants and their porcelain crowns are impervious to decay the surrounding gums and bone are still vulnerable to infection. In fact, you could be at risk for a specific type of periodontal (gum) disease called peri-implantitis (inflammation around the implant).
Bacterial plaque, the thin bio-film most responsible for gum disease, can build up on implant crowns just as it does on natural tooth surfaces. If it isn't removed with daily brushing and flossing and regular dental cleanings the bacteria can trigger an infection in the gums.
Besides weakening gum tissues, gum disease can also cause bone loss, of critical importance to dental implants. An implant depends on the bone they're inserted in to hold them in place. If the bone around an implant becomes infected it could begin to be lost or dissolve (resorb), which could lead to loss of the implant.
That's why it's critical to keep the natural tissue structures supporting your implants infection-free. Not only is daily hygiene a must, but your implants and any remaining natural teeth should undergo professional cleaning at least twice a year or more if your dentist recommends it.
Cleanings involving implants will also be a bit different from natural teeth. While the dental materials used in the crown and implant post are quite durable, regular cleaning instruments can scratch them. Although tiny, these scratches can become hiding places for bacteria and increase your risk of infection.
To avoid this, your hygienist will use instruments (known as scalers and curettes) usually made of plastics or resins rather than metal. The hygienist may still use metal instruments on your remaining natural teeth because their enamel can tolerate metal without becoming scratched creating a smoother surface.
While keeping implants clean can sometimes be a challenge, it's not impossible. Implants on average have a long-term success rate above 95%. With both you and your dentist caring and maintaining these state-of-the-art restorations, you may be able to enjoy them for decades.
If you would like more information on caring for dental implants, please contact us or schedule an appointment for a consultation. You can also learn more about this topic by reading the Dear Doctor magazine article "Dental Implant Maintenance: Implant Teeth must be Cleaned Differently."
By Boca Dental Arts
October 15, 2017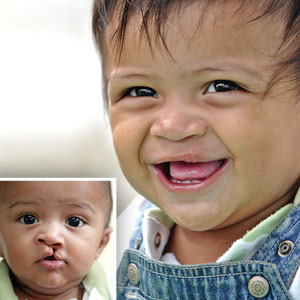 One of the most common and anguish-filled birth defects is a cleft lip or palate (roof of the mouth). Not only do clefts disrupt the normality of a child's facial appearance, they can also lead to problems with chewing, speech and the long-term health of teeth and gums.
A cleft is a tissue gap that occurs during fetal development, usually in the first trimester, in which parts of the baby's face fail to unite. Why this occurs is not fully understood, but vitamin imbalances in the mother, exposure to radiation or other toxic environments, or infections are all believed to play a role.
Facial clefts are classified as either incomplete, in which there is some but not full tissue fusion, or complete, with no fusion at all. A cleft can be unilateral, affecting only one side of the face, or bi-lateral, affecting both sides. During infancy a cleft can adversely affect a child's ability to nurse, and it sometimes disrupts breathing. As the child grows, speech patterns may be severely disrupted and their teeth and bite may not develop properly.
Fortunately, there have been dramatic advances in cleft repair over the past sixty years. It's actually a process that can span a child's entire developmental years and involve the expertise of a number of surgical and dental specialists. For a cleft lip, the initial surgical repair to realign and join the separated tissues usually occurs around three to six months of age; repair of a cleft palate (where the gap extends into the roof of the mouth) between 6 and 12 months.
Subsequent procedures may be needed in later years to refine earlier results and to accommodate the mouth's continuing growth. At some point the treatment focus shifts to cosmetic enhancement (which can include implants, crown or bridgework) and periodontal health, to ensure gum tissues that support teeth and gums aren't compromised by the effects of the cleft or its treatment.
At the end of this long process, something of a miracle may seem to occur: a young person's once disfigured mouth transforms into a beautiful smile. It's a chance for them to gain a normal life — and a new lease on physical, emotional and oral health.
If you would like more information on cleft reconstructive surgery, please contact us or schedule an appointment for a consultation.